May 2022 Email Update
Posted by Tim Kelley on Wednesday, May 11, 2022 at 1:32 PM
By Tim Kelley / May 11, 2022
Comment
The April median sales price for single-family homes was $1,105,000 (19.1% higher than April 2021) and for condos was $510,000 (13.3% higher than April 2021). Lack of inventory continues to constrain the market with the number of single-family home sales dropping 2.7% compared to April 2021, pending home sales dropping 18.7%, the number of condo sales rising 4.2%, and pending condo sales dropping 8.8%. There is only 1.1 months of inventory for single-family homes and 1.5 months of inventory for condos.
Mayor Rick Blangiardi signed currently the most restrictive short-term rental law in the country, Ordinance 22-6, on March 26, 2022. The new law raises the length of the minimum allowed lease term from thirty days to three months and prohibits all short-term rentals outside the resort-zoned areas of Waikiki, Ko Olina, Turtle Bay, and Makaha. Apartment-zoned areas close to these neighborhoods may receive approval for renting entire units and bed-and-breakfast (B&B) operations where the operator lives on the property. Vacation Rentals must provide off-street parking in communities zoned rural, residential, or apartment-use. Owners in Ko'olina Hillside Villas and Ko Olina Fairways must carefully check the new map showing where short-term rental activity is legal because it cuts off portions of the two complexes. The law goes into effect October 23, 2022. Here is a link to the new law:
The University of Hawaii Economic Research Organization (UHERO) published "Measuring the Burden of Housing Regulation in Hawaii," on April 14th and promised further research into how much Hawaii's regulatory environment contributes to Hawaii's high home prices. UHERO conducted a survey to apply the Warton Index, a methodology of quantifying local regulation's impact on new housing production, to compare Hawaii's regulatory climate to other counties in the nation. Economists released the first Warton Index in 2006 which only included Honolulu County and the index completely omitted Hawaii in 2018. UHERO asked each county to complete the same survey used in the 2018 Warton Index update to compare Hawaii's regulatory environment to other counties in the United States. The index has a mean of zero meaning that a county with a positive value has more regulatory barriers to development than the average county and a county with a negative value has fewer regulatory barriers. Hawaii County (The Big Island) had the highest barriers in the country and all Hawaii counties fell in to the top third of index values. The state of Hawaii had significantly higher housing regulatory burdens than any other state in the union. The study further breaks down the index with subcategories that highlight Hawaii's affordable housing requirements and permit approval delays as the main contributor to suppressed development. The Wharton Index correlates with an 8% increase of home prices with every one-point index increase implying that regulations add 8% to Oahu's home prices and roughly 20% to the Big Island home prices. You can watch a video about the study or read it in greater detail at the website below.
Measuring the Burden of Housing Regulation in Hawaii
Howard Hughes Corp. submitted a permit application for the 10th tower in the Ward Village planned neighborhood. The Hawaii Community Development Agency will hold two public hearings this summer and have a decision-making hearing in August for the 330-unit residential mixed-use condominium project.
The Board of Water Supply (BWS) is encouraging residents to conserve water this spring and summer arguing that the Red Hill shaft contamination has restricted available water capacity. Governor Ige has pushed to fix existing wells to boost capacity since 15% of the existing wells are down for repairs. Some argue that BWS is too slow to restore wells threatened by the Red Hill fuel tank leaks despite testing that shows the water is safe to use. The Board of Water Supply took the Halawa shaft out of service when testing confirmed jet fuel contamination in the Red Hill shaft, and it supplied 20% of the water to West Oahu. The state has approved the U.S. Navy's plan to install eight new Red Hill monitoring wells to see if fuel contamination is migrating beyond the original spill area.
A fatal Waikiki shooting on March 19th and an attack on a U.S. veteran who saw combat action in Iraq and his girlfriend served a reminder that Waikiki residents and tourists should take precautions. Waikiki neighborhood leaders are meeting once again with legislators and the Honolulu Police Department (HPD) to increase walking patrols to stem the violence that previously flared up in 2018. A May 2nd article in the Honolulu Star-Advertiser highlights the neighborhoods frustration with Oahu prosecutors. Prosecutors first downgraded the case from third-degree assault to a misdemeanor and then dismissed the case without prejudice despite the violent assault on the veteran. HPD officers are becoming increasingly frustrated with the Oahu justice system quickly releasing repeat offenders. Seventeen percent of all reported Oahu crimes occurred in Waikiki during one week in 2022 and over one hundred violent crimes have taken place during the first three months of the year.
A jury found another member of the Kealoha crime ring guilty. Jurors found Dr. Rudolph Puana, the brother of former Honolulu Deputy Prosecutor, Katherine Kealoha, guilty on thirty-eight counts of distributing and dispensing oxycodone, one count of distributing fentanyl without a legitimate medical purpose, and conspiracy to distribute or dispense the drugs. He distributed close to 8,000 pills to friends and family. Puana, an anesthesiologist and pain doctor, falsified medical records including drug tests that never happened to distribute the pills that friends could then sell to pay for their children's private school and buy cocaine to use together. Puana was addicted to hydrocodone for many years which he referred to as "Skittles."
Organizers held the 59th Merrie Monarch festival over the weekend starting April 22nd in front of a limited crowd of the participants' family and long-standing supporters and sponsors of the event. The public was able to buy items at the festival's popular arts and crafts fair offering locally made aloha wear, woodwork, photography, jewelry, food, music, skin care products, and official Merrie Monarch merchandise.
Windward Community College is offering graduating seniors of public and charter schools in Windward O'ahu one year of free tuition worth up to $3,144 as part of its Ho'olei Tuition Award program. You can find more information at its website:
One feisty homeowner, a martial arts champion, has spent an estimated $200,000 to move large amounts of sand in front of his two ocean-front houses in a North Shore neighborhood that had a nearby home collapse onto the eroded beach in February without a permit and in defiance of the Department of Land and Natural Resources (DLNR). The owner owns two houses on adjacent lots with an estimated market value of $5 million. He publicly confronted the DLNR Chairperson when she visited the property of the collapsed house in February demanding options to protect his property. DLNR has written several letters to the owner citing violations including the placement of large boulders, concrete pillars, and sandbags on the shoreline but has not mentioned any planned enforcement action. DLNR did not respond to the Honolulu Star Advertiser reporter when asked about any future enforcement actions.
Polo on Oahu has returned from its COVID-19 pandemic hiatus with a full season scheduled which started on April 17th. Fred and Murph Dailey founded The Hawaii Polo Club in 1963 on a North Shore oceanfront pitch. Murph Dailey attended this year's opening day at the age of 103. The club has attracted local, national, and international players and spectators for decades and expects to host teams from India, Chile, and New Zealand later this summer. The Dailey family helped build Hawaii tourism before jet travel and still owns the Equus hotel in Waikiki, a horse themed hotel that offers two complimentary tickets to the polo matches during the season. You can visit the website below for more information.
Kilauea volcano has continuously erupted for the past 1 ½ months in the Halemaumau crater raising the depth of the lava lake 325 feet since the current eruption started on September 29, 2021. Initially, the eruption paused temporarily for a few days here and there. Scientists cannot predict how long the eruption will last, but the volcano did previously erupt for decades in the 1800s. You can view the eruptions via webcams at the address below.
Kauai-based Koloa Rum Company announced distribution of its products to Kansas, the 31st state in the company's U.S. distribution channel. The 13-year-old company has maintained steady growth even as local business shrunk during the pandemic by expanding sales in the U.S. and international locals like Australia, Canada, Europe, and Japan. You can see their products and distributors by visiting their website.
The Hawaiian monk seal population has recently passed 1,500. Conservation efforts appear to be working for one of the most endangered species and the number of Hawaiian monk seals will have to double before removing them from the list of endangered species. A high rate of pup deaths in the Northwestern Hawaiian Islands is still a concern.
Tim and Tracey visited Washington D.C. from April 24th through April 27th to attend a wedding, visit family and friends, and take in the sites at the National Monument and Smithsonian museums. Tim and Tracey learned a fun fact about Hawaii after visiting the Lincoln Memorial interior. Prior to entering, they had noticed the states artists engraved the states at the top of the four exterior sides of the Lincoln Memorial and planned on finding Hawaii. As they circled the building, they overheard a guide speaking to a tour group of veterans from Indiana explaining that Alaska and Hawaii are missing because builders completed the memorial in 1922 and there was no more room for Alaska and Hawaii when they became states in 1959. What Tim and Tracey did not learn until they returned home was of a plaque on the steps of the Lincoln Memorial dedicated to the two states. Visit the link below to see the plaque.
Lincoln Memorial - Alaska & Hawaii Indoctrination Plaque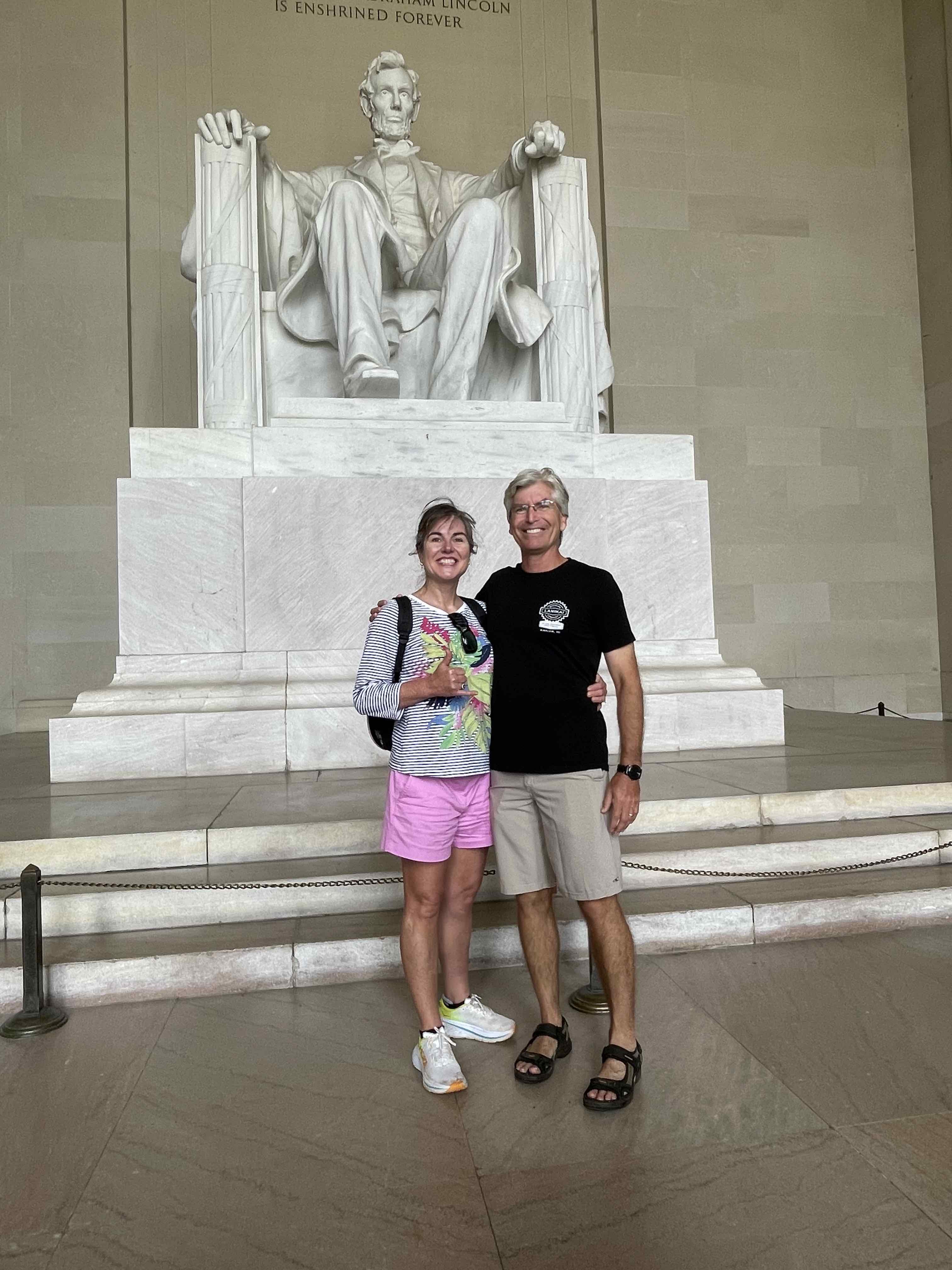 Tim and Tracey just returned from North Carolina to celebrate their daughter, Ashley's, graduation from University of North Carolina Master's Program in Public Health and their son, Mark's, birthday, and Mother's Day. Tim's parents, Tracey's brother, his wife, and one of Tracey's cousins and his wife who live in North Carolina joined in the festivities. Tim and Tracey are happy to be back home in Kailua after a fun and eventful weekend. Here is a link to some photos of the trip.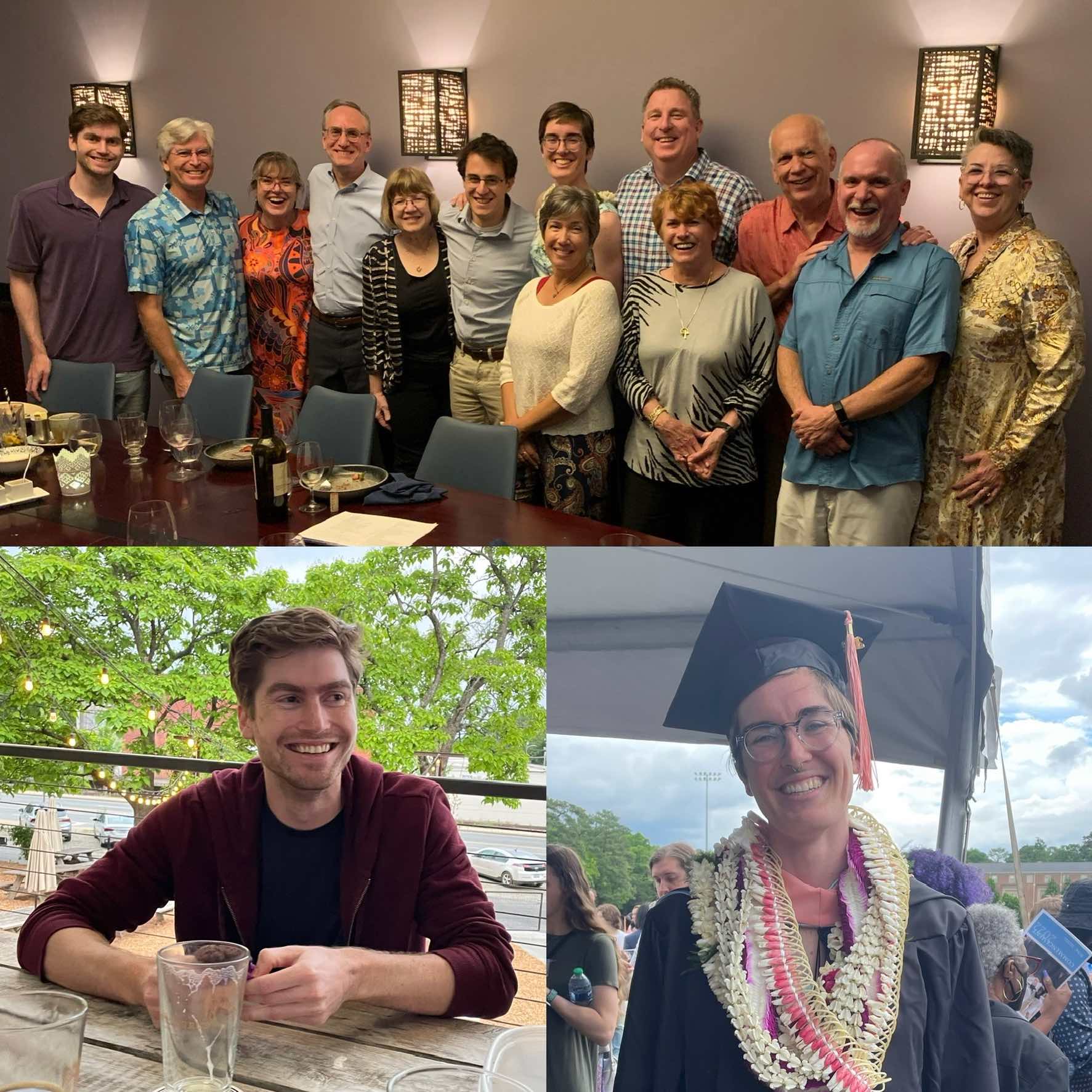 Take a look at our Another Day in Paradise's Video