August 2016 E Mail Update
Posted by Tim Kelley on Thursday, September 1, 2016 at 2:29 PM
By Tim Kelley / September 1, 2016
Comment
August 2016 E-mail Update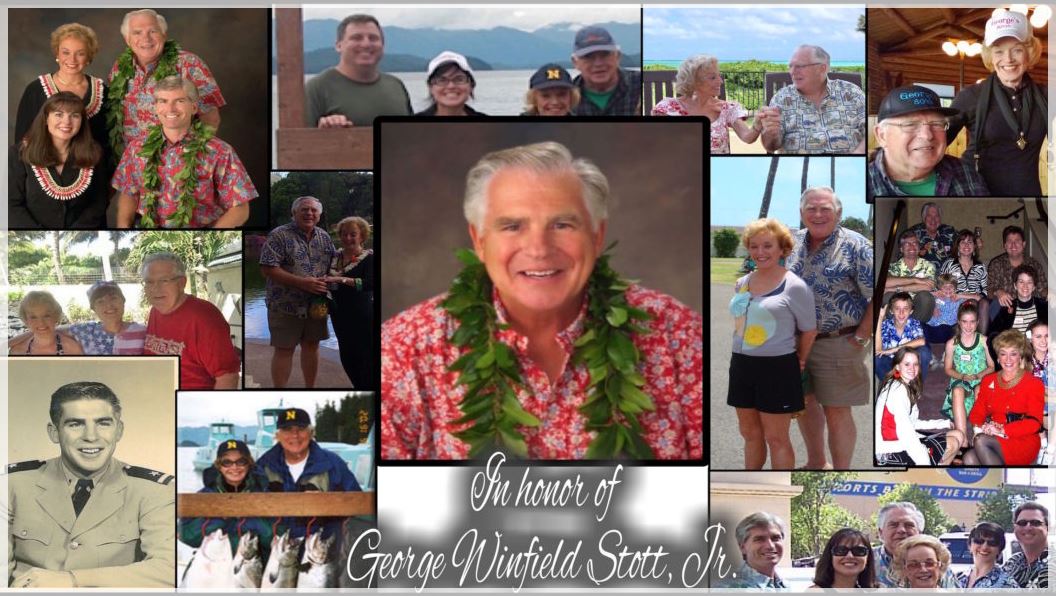 Here is our 08/11/2016 e-mail update. It is sent after the statistics for the preceding month have been posted on the Board of Realtors website. You can find previous newsletters by visiting www.stott.com/news.
Monday, August 8th, was a sad day for family, friends, current employees, and past employees as they said their final farewell to George Winfield Stott, Jr. who passed away on July 20th. A group of young Navy sailors, who were born after George served, conducted a tear wrenching ceremony, featuring "Taps" and a 21-gun salute, honoring a submarine commander that they never knew. One young man in the honor guard shed a tear and another fine gentleman presented Mary Lou with an American flag. Father Emmanuel, a new pastor from Zimbabwe, then held a beautiful mass that included a soaring a capella version of "Amazing Grace" by our past employee, Lokahi Valentine. Two outrigger canoes paddled out to spread George's ashes and flowers in the ocean about a quarter mile off the shore from his home per his wishes. Several years ago, George told Tracey that he only wanted a small family ceremony with his ashes given to the sea. He later changed his mind and told Tracey that he "wanted it all." The celebration of life was a great farewell to a great man.
The median sales prices continue to record strong year over year gains due to Oahu's well documented supply constraints. The July single family home median sales price was $746,000 (5.1% higher than July, 2015) and the July condo median sales price was $400,000 (14.3% higher than July, 2015). There is still only 3.1 months of inventory for single family homes and 3.0 months for condos.
A recent study of the decade from 1996 through 2006 shows the impact of government regulations on Honolulu's homebuilding. While home prices shot up 146% during the time period, the percentage change of housing units grew only 12.6%. Economist Carl Bonham contends that the regulatory burden Hawaii puts on the developers is a major part of the problem. Multiple regulatory agencies, the city, the State Land Use Commission, and the Hawaii Community Development Authority tie up construction projects in multiple layers of red tape. Places that have really tight regulations have higher home prices and Honolulu comes out on top of the regulatory burden.
Hawaiian Airlines, a barometer for Hawaii's tourism industry, continues to enjoy passenger growth as it adds capacity. The Honolulu-based carrier flew almost 970,000 passengers in June, an increase of 6.2% compared to the same month last year. Hawaiian Airlines received more great news when they were awarded the Best Airline Staff in North America at the Skytrax World Airline Awards held in England. London-based Skytrax Research conducts customer service surveys covering 280 airlines worldwide.
U.S. Representative, Mark Takai died on July 20th, nine months after being diagnosed with pancreatic cancer and two months after announcing that he would not seek re-election because the cancer had spread. A special election to fill Mark Takai's seat will be held at the same time as the general election on November 8th. The winner of the special election will serve out the remaining two months of Mark Takai's term. Eleven candidates have filed to run in the general election for the term starting in January 4, 2017.
Governor David Ige deferred almost all new state highway capacity projects to reduce traffic indefinitely despite public opinion polls listing traffic congestion as one of the top voter concerns. Both Ige and House Majority Leader Scott Saiki are currently arguing for the need to raise taxes instead of taking a hard look at where the state is spending money and prioritizing accordingly. Some people are suggesting that Ige is deferring popular highway capacity projects to pressure the legislature in approving an increase to the state's gasoline tax, weight tax, and vehicle registration fee after being rejected in this latest legislative session. The total highway projects being deferred are estimated to cost a total of $586 million. It looks like Hawaii commuters will have plenty of time to think about the $7 billion rail project while they continue to sit in traffic.
The Hawaii Public Utilities Commission (PUC) ruled against the proposed $4.3 billion acquisition of Hawaiian Electric Company (HECO) by NextEra Energy, Inc. Even though PUC acknowledged that NextEra Energy is "fit, willing, and able to perform the service currently offered by the utility being acquired," PUC stated that NextEra failed to demonstrate that the application is reasonable and in the public interest. While some say that NextEra failed to embrace Hawaii's regulatory requirements, Paul Brewbaker, one of the leading economists on the island contends that the deal fell apart because the state wanted to consolidate its political power over the utility. Brewbaker states that Hawaii's economy continues to suffer as politics drive changes instead of the consumers and businesses. Several ventures have been cancelled as a result of the PUC's decision including HECO's major liquefied natural gas (LNG) project, the Oahu-Maui interisland transmission cable, a proposed Lanai Wind Project, and power supply improvement plans on Oahu. Hawaiian Electric Company, spent $22.4 million on the merger, which will ultimately be passed on to Oahu consumers.
The city of Honolulu awarded Hawaii Gas a contract to supply the city with biogas from its Honoluliuli Wastewater Treatment plant in Ewa Beach. Biogas, or biomethane, is generated when biodegradable waste is broken down through chemical reactions and by microbes. The natural gas produced at the site is currently burned off and not utilized. Hawaii Gas is looking to replace most of its current fuel base with renewable natural gas has issued its own request for proposals. It also has a $200 million plan to ship LNG in bulk amounts to Hawaii starting in 2019.
The Environmental Protection Agency (EPA) provided the latest example of why 70% of Americans on both sides of the political spectrum think that the country is headed in the wrong direction. The EPA recently required HoyHoy Trap-A-Roach, a staple in Hawaii households for over 20 years, to destroy 190,000 traps because it deemed that the packaging labels "misleading." Meanwhile, Hawaii consumers are having to suffer through the peak cockroach season without their go to pest control trap against the flying American roaches known as B-52 Bombers. Retailers are waiting for shipments to restock their shelves.
The Howard Hughes Corp. has filed for a demolition permit for the Ward Warehouse retail complex as it continues the Kakaako makeover. Ward Warehouse opened in 1975 and is home to dozens of small businesses. Tim still remembers driving to Ward Warehouse from Ewa Beach on his way to George and Mary Lou Stott's house in Kailua for dinner in search of a potato masher. Back in the early 90's potato mashers were quite rare on the island. Fortunately, The Executive Chef, which has since moved, carried the item and Mary Lou was able to make her yummy mashed potatoes for the holiday meal.
Regulators approved The Howard Hughes Corp.'s $20 million Kewalo Basin Harbor upgrade in Kakaako. The two-phase renovation will include water, fire, and electrical service upgrades plus adding security cameras and Wi-Fi. The project will also repair the concrete and epoxy coat, add security gates, add new docks, and add a marine fueling facility.
Forest City Hawaii, a subsidiary of Forest City Realty Trust, Inc., is trying to cash out of their recently completed and rented 499-unit Kapolei Lofts complex. The complex includes more than 6,000 photovoltaic panels and an interesting innovation: demand-response water heaters that provide energy storage for about a quarter of the electricity generated by the panels.
American Express and the National Trust for Historic Preservation have awarded a $250,000 grant to Pacific Historic Parks to help restore one of the Battleship Row mooring quays. The quays are near the USS Arizona Memorial, the #1 tourist attraction in Hawaii.
WalletHub ranked Honolulu #10 out of the 100 largest U.S. cities for recreation due to the abundance of hiking trails and water sports. The personal-finance website compared cities using 35 metrics ranging from the price of a movie ticket to the number of tennis courts per capita. Not surprising to Oahu residents, Honolulu ranked #1 in bike rental facilities, fishing sports, hiking trails, boat tours, and water tours.
Fatboy's Restaurant Group Hawaii has opened a new Fatboy's plate lunch restaurant in Haleiwa. The restaurant is a family favorite of the Stott family and oldest sibling, Mike Stott, insists on Fatboy's garlic chicken for his first dinner when he comes to visit. Tim and Tracey were quite puzzled over Mike's obsession with the dish until they tried it themselves. It quickly became a potluck staple for the Kelley family at various sporting and party events. The Kailua restaurant sports a framed note saying, "A cow has four stomachs … Lucky bastard." We recommend trying it out the next time you are on Oahu and looking for an excellent plate lunch.
The state film commission confirmed that the remake of "Jumanji," starring Dwayne "The Rock" Johnson, Kevin Hart, and Jack Black. Crews are scheduled to start filming in Hawaii in September or October.